If you've never tried potato langos (krumplis langos) and you've been on the hunt for a good recipe, you're in the right place.
Otherwise known as Hungarian Fried Bread, potato langos are one of the most delicious additions to anyone's cooking repertoire.
I absolutely love making these for my family.
Often, you'll find a covered bowl of potato langos dough in my refrigerator.
I love these things so much that I like to be able to grab a handful of dough and fry it up whenever I get the urge.
Hungarian fried bread is a great addition to any breakfast meal and it's great for dipping in goulash or potato soup.
These yummy fried patties can also be topped with all your favorite things for a main course if you'd like.
So, let's learn a little bit about this yummy treat and get the potato langos recipe and cooking tips.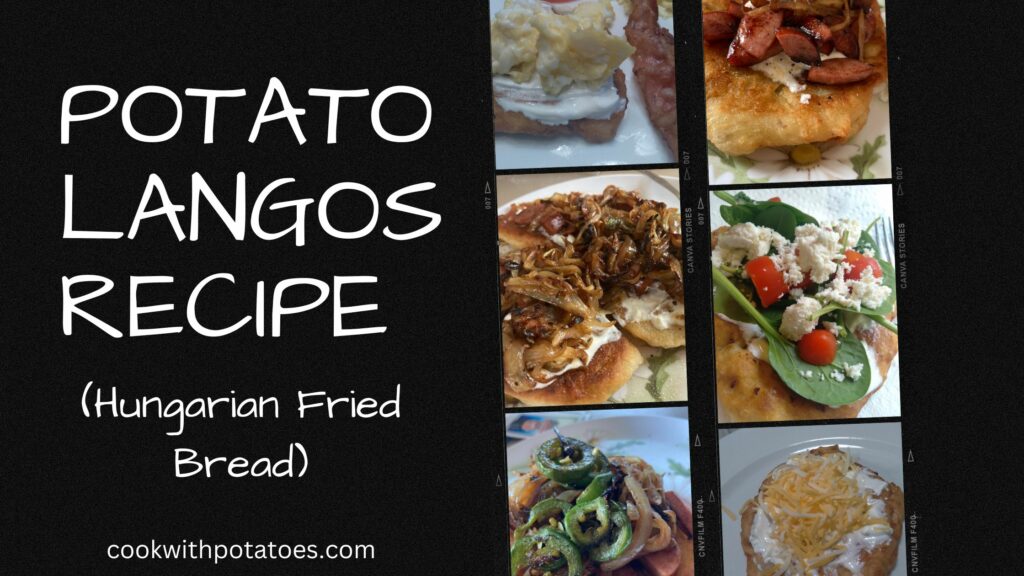 What is traditional potato lángos?
Traditional langos is a flatbread made with flour, milk, yeast, and potatoes or yogurt.
It was, and sometimes still is, baked in the oven and then topped, much like pizza dough.
The way the world knows langos now is as a Hungarian fried bread – a deep-fried street food.
The dough is made the same way, the cooking process is the only thing that's different.
What country is lángos from?
Though many Eastern European countries have their own versions of flatbreads that are similar to langos, langos is known as a Hungarian food.
Langos comes from the Hungarian word "lang", which means flame – since the original cooking method was over a fire.
What does lángos taste like?
Langos tastes like any other warm, fried bread. It has a soft, very slightly sweet taste.
If you're wondering how the potatoes affect the taste of fried bread, you should know that the difference is very subtle.
Potato langos, no matter what recipe you use, will not have a strong potato flavor.
The potatoes merely enhance the flavor and heartiness of the bread.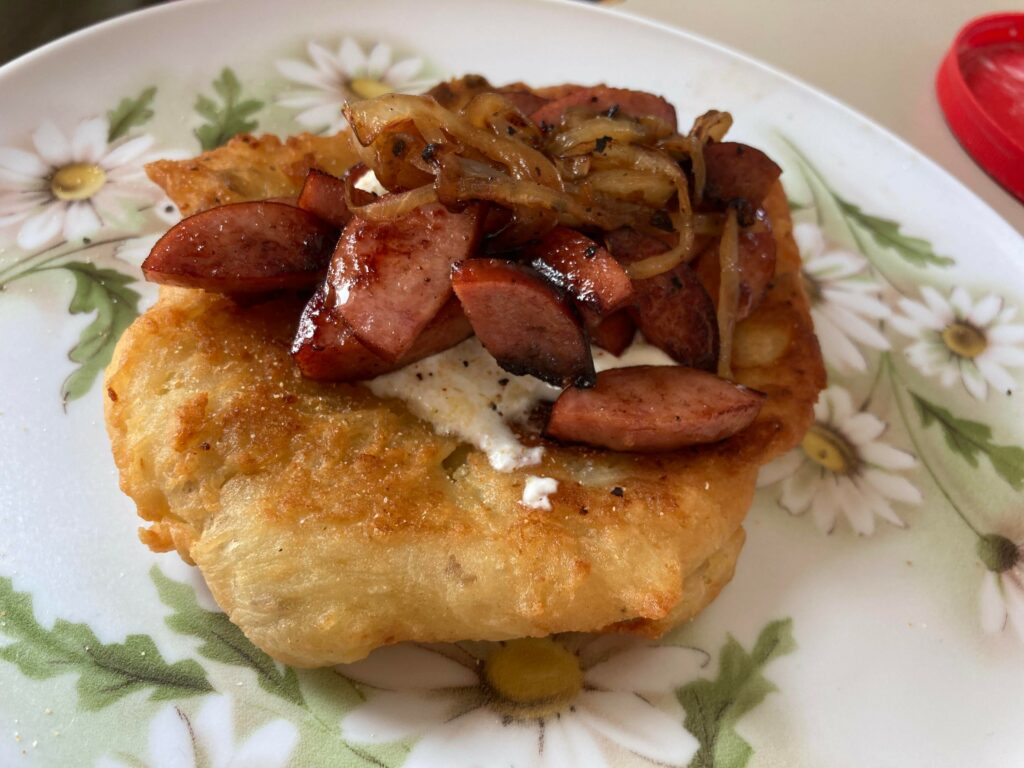 What are the different types of lángos?
Langos can be made with or without potatoes, though many Hungarians would probably ask that you don't call it a langos without the spuds.
It can be baked or fried, of course, as well.
The great thing about langos is that you can top them with whatever you like
In Hungary, sour cream and cheese is a common langos topping.
I like to top mine with cabbage and bacon – yum.
Is lángos a street food?
Though, as I mentioned earlier, potato langos are currently served in Hungary by street vendors, it hasn't always been a fast-food type treat.
Baked flatbreads have been a staple of Eastern European countries for ages.
Flatbreads were a way for people to use the leftover dough that would stick to the sides of bowls from previous batches.
In the early part of the 20th century, there was a flour shortage in Hungary due to warring political factions and the effects of WWII.
People began to bake less. Less baking meant less leftover dough.
Langos was no longer a common food in Hungary.
Decades later, though, economic conditions improved and langos made its big comeback, but this time it was fried.
Hungarian fried bread, this newer version of langos, is now a cherished cultural food that people from all over the world are discovering.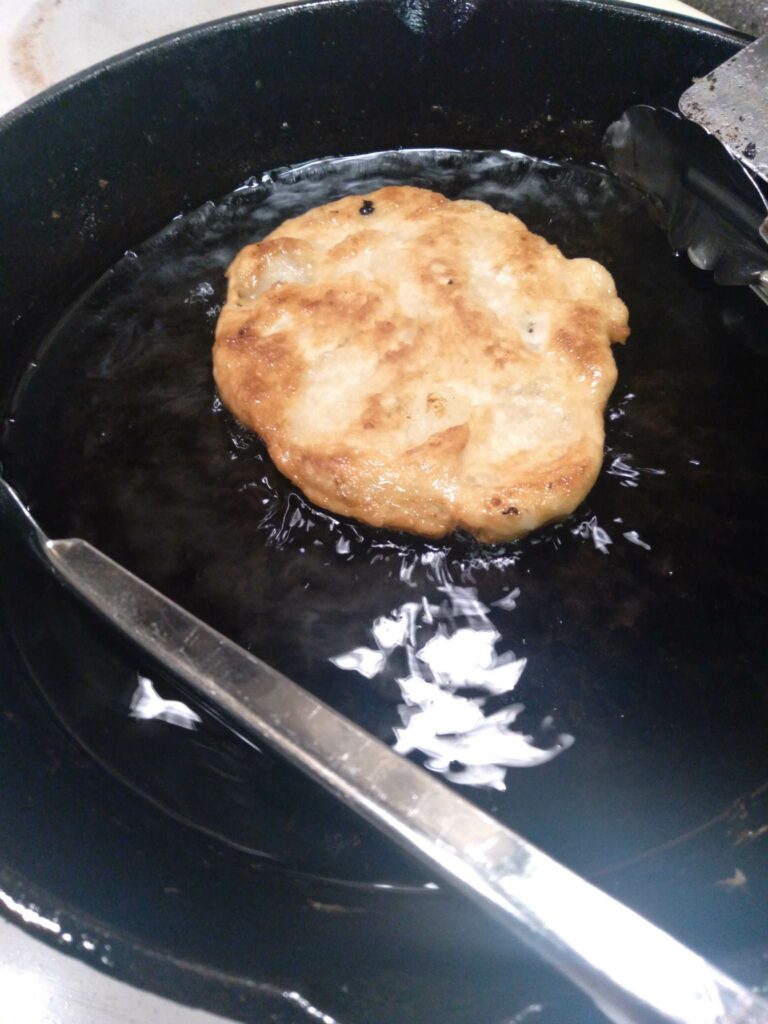 What are the ingredients of potato lángos?
Here's what you need to make potato langos.
You probably have all the ingredients in your pantry right now.
Potato langos is a great recipe to try if you've got a couple of potatoes that need to be used asap.
potatoes
flour
instant yeast
milk
sugar
oil for frying
How to cook potato langos
The dough for potato langos is very easy to make. Boiling, peeling, and mashing the potatoes is the most time-consuming part, in fact.
After you've got your mashed potatoes, you just mix everything together, knead it for a few minutes, then let your langos dough rise.
Frying the dough is super fast and easy. Each side only takes a few minutes to cook.
That's it.
After you've fried your potato langos up, put your favorite toppings on them and enjoy!
Can langos be baked?
Yes, langos can be baked.
If you're wanting thick, bready langos, or if you want to make a langos pizza, this is the method you would use.
Everything about making baked potato langos is the same up until, of course, the frying part.
Instead of frying them, you'd simply roll the dough onto an oiled baking sheet and bake at 400 degrees for about 10 minutes, or until golden brown.
So, if you've made your dough and you've realized you don't have enough oil for frying your bread, just pop it in the oven and bake it.
Storing and freezing potato langos
If I have extra dough, I find that covering it and putting it in the refrigerator works well.
It will keep for a few days like this.
If you want to go ahead and fry any extra dough you have left (or if you already fried them and now you've got extra), you should know that the langos get pretty soft and limp in the refrigerator.
Hungarian fried bread gives me life, but it's not even close to being the same if it's been in the refrigerator overnight.
I recommend going ahead and freezing the leftover potato langos and then reheating them in the oven at 400 degrees for several minutes.
Yield: 6 Servings
Potato Langos Recipe (Hungarian Fried Bread)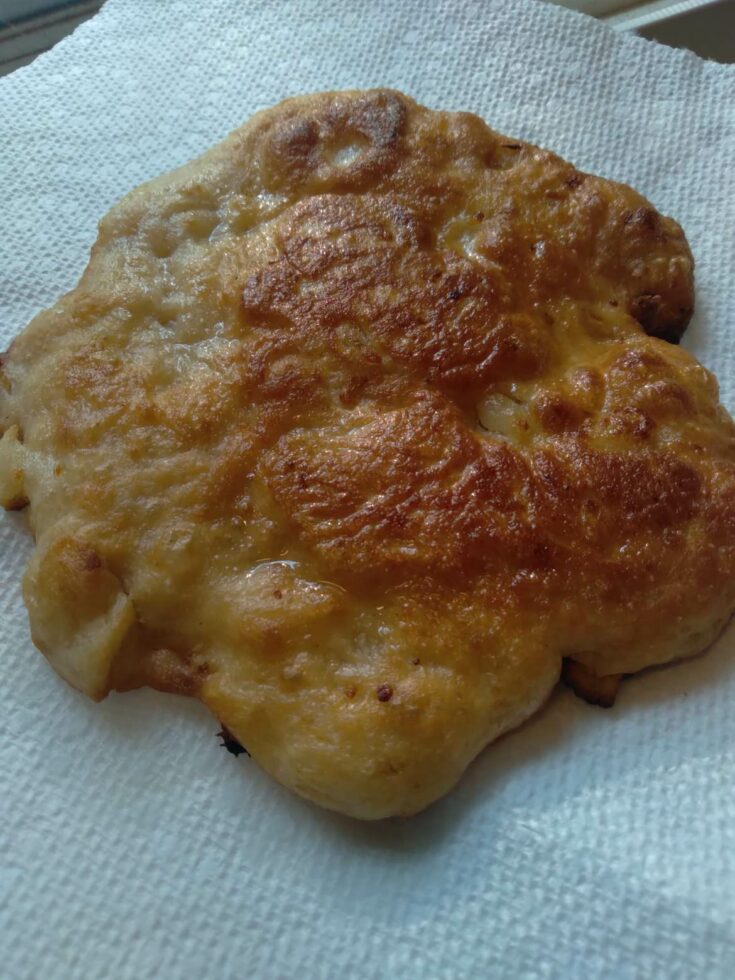 Potato langos are a delicious Hungarian fried bread treat. Eat them with sour cream, cheese, or whatever toppings you like or just enjoy them with some garlic and a little salt.
Additional Time
1 hour
20 minutes
Total Time
1 hour
55 minutes
Ingredients
2 Russet Potatoes
2 Cups Flour
1 Packet Instant Yeast
1 Tbsp Sugar
3/4 Cups Milk
Cooking Oil or Lard for Frying
Instructions
1. Warm the milk in the microwave slightly and stir the sugar and yeast into the warm milk. Set to the side.
2. Peel and boil the potatoes in a large pot, let them cool just a bit, and then mash them well.
3. Add the flour and milk mixture to the bowl and stir until the dough is formed.
4. Knead the dough well for about 5 minutes, working it into a ball, adding more flour if the dough is too sticky or more milk if the dough is dry and crumbling.
5. Place the dough ball into an oiled bowl, cover it with a cloth, and set it in a warm area for 1 hour. The dough should double in size.
6. Heat about 1/2 inch of the oil or lard in a skillet on medium-high.
7. Oil your hands and grab a handful of dough from the bowl.
8. Flatten and stretch the dough between your hands and fingers until it's roughly 1/8" or thinner.
9. Place the dough patty into the hot oil and fry on each side for 2-3 minutes, turning with tongs. Each side should be golden brown and crispy.
10. Set the potato langos on a towel-lined plate.
Notes
Some recipes call for the dough to be separated into equal portions prior to rising. I don't find this to be a necessary step, however, it does streamline the frying process a little.
If you find that when you are frying your potato langos, they puff up in the pan, you can cut small slits in them prior to frying.
I wrote that this will make 6 servings. Potatoes come in all different sizes and people like their langos in different sizes, as well.
This recipe won't make too little, but you might have some dough left over.
You can keep the dough covered in your refrigerator for 3-4 days, taking out handfuls to fry when you like.
I often make a batch of dough ahead of time and fry a little bit up here and there for a nice snack or to serve alongside other meals.
Nutrition Information:
Yield:
6
Serving Size:
1
Amount Per Serving:
Calories:

275
Total Fat:

6g
Saturated Fat:

1g
Trans Fat:

0g
Unsaturated Fat:

4g
Cholesterol:

4mg
Sodium:

24mg
Carbohydrates:

48g
Fiber:

3g
Sugar:

4g
Protein:

7g