Are you looking for an easy recipe for crispy breakfast potatoes? One that is bursting at the seams with flavor? If so, you have come to the right place.
This breakfast potatoes recipe is so easy and delicious – you won't make them another way after this.
There are 3 main ingredients in this recipe, along with 2 simple seasonings, and some bacon fat. Easy peasy!
I know you're ready to cook, so let's get right to it.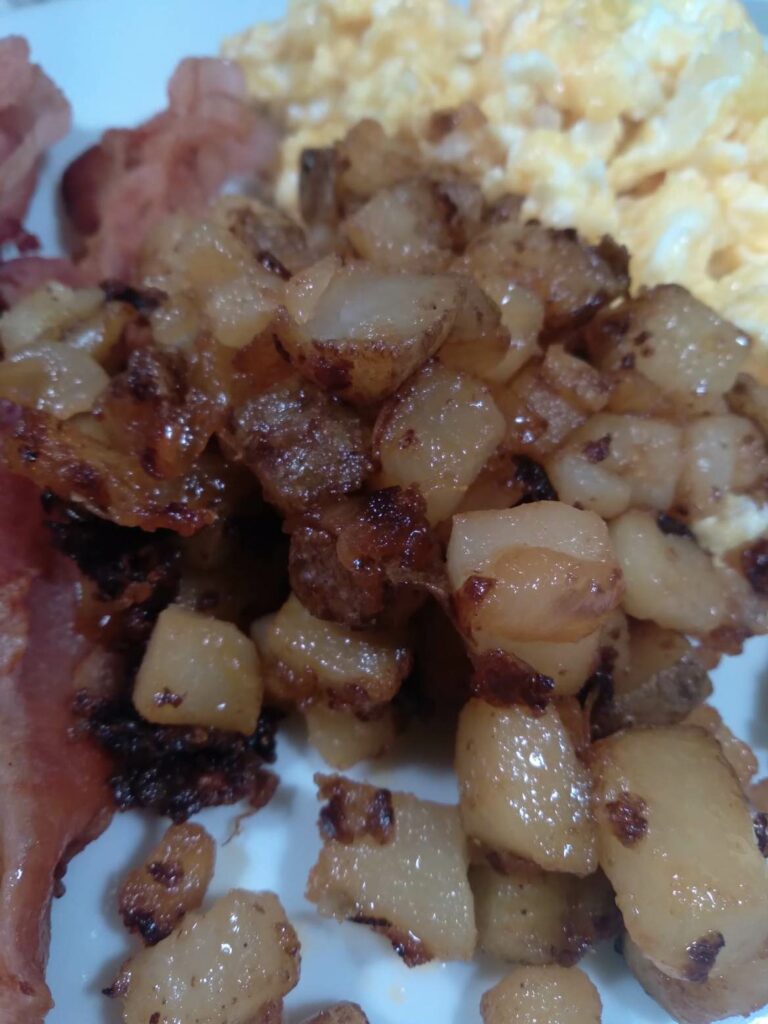 (This post contains affiliate links. Purchasing from these links costs you nothing extra, but helps with our website upkeep.)
The key ingredient in this easy breakfast potatoes recipe is definitely the rendered bacon fat.
Bacon fat is great to have on hand since it adds so much flavor to pretty much anything you're cooking.
Since this is a breakfast recipe, though, you might already be thinking about cooking up some bacon and eggs to serve with these crispy and deliciously seasoned potatoes.
If that's the case, cook your bacon first and keep it warm at a low temperature in the oven. You can use the leftover bacon fat in the bottom of the pan for this recipe.
(You'll see this technique used in other recipes of mine, like my creamy potato soup recipe.)
While your bacon is cooking, you can chop your breakfast potato ingredients. Then, when your bacon is done, transfer it to a pan for warming, and go ahead and add your potatoes, onions, and garlic.
Super easy.
What can I use instead of bacon fat?
If you don't plan on making bacon, don't have rendered bacon fat in your fridge, or simply don't want to use this in your recipe, you can substitute the bacon fat for butter or any cooking oil.
If you want to make this recipe healthier or vegan/vegetarian, I suggest using a really high-quality olive oil.
Breakfast potatoes ingredients list
large potato
onion
garlic cloves
paprika
salt
bacon fat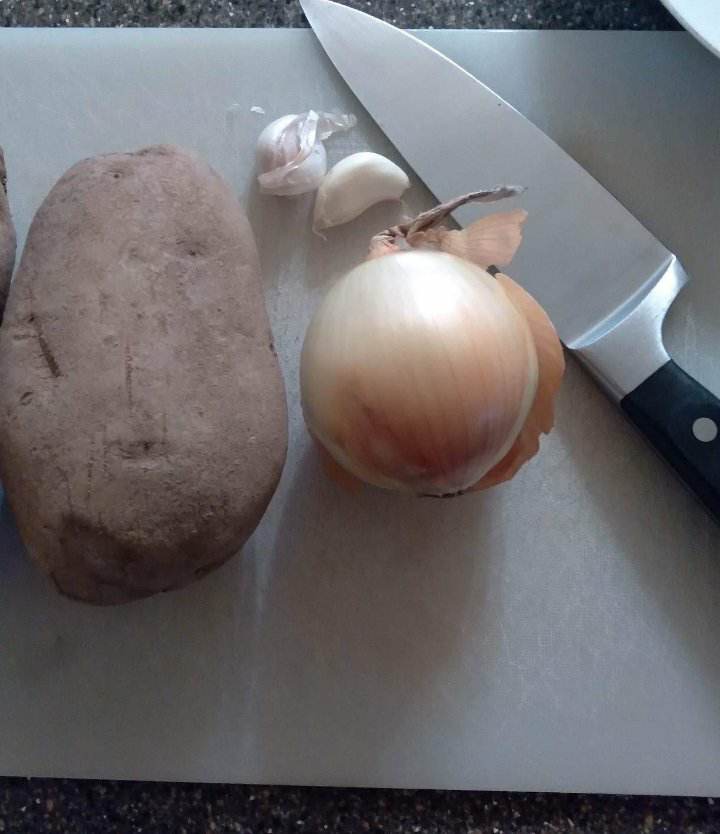 How to make easy 3 ingredient crispy breakfast potatoes
Chop the potato, onion, and garlic

Cut your potato into cubes no larger than 1/4″ x 1/4″. Dice or fine-chop your onion. Dice your 2 garlic cloves.

Heat bacon fat

Heat the bacon fat in a cast iron or stainless steel pan on medium heat.

Add ingredients to the pan

Being careful not to splash, add the potatoes, onions, and garlic to the pan.

Add salt and paprika

After the ingredients have been stirred around and coated with bacon fat, add the paprika and salt.

Cook

Cook for about 20 minutes, being sure to scrape the bottom of the pan as you go.
What type of pan is best for breakfast potatoes?
For flavorful and crispy breakfast potatoes, you need to be scraping the bottom of the pan every time you turn your potatoes.
(It's important to turn them instead of stirring them. Stirring will cause more of your potatoes to break, which will make this side item mushy.)
Since you'll be scraping the pan, you don't want to use a non-stick pan for your breakfast potatoes.
Not only with this tear up the non-stick coating on your pan, but you'll be getting bits of non-stick coating in your food – yuck.
I recommend a large stainless steel pan for breakfast potatoes. Cast iron skillets are another great option, as well.
What to serve with breakfast potatoes?
Breakfast potatoes can be served with lots of different foods.
I enjoy serving breakfast potatoes with the standard American weekend breakfast items – eggs, bacon, and fresh fruit.
Breakfast potatoes, no matter how crispy you make them, are a pretty heavy, greasy food.
I like to balance that out by cooking the eggs in olive or coconut oil and making sure there's a nice helping of fresh fruit on the plate.
The fruit not only lightens up the meal a little, but it adds some color to the plate, as well.
Yield: 4 Servings
Easy 3 Ingredient Crispy Breakfast Potatoes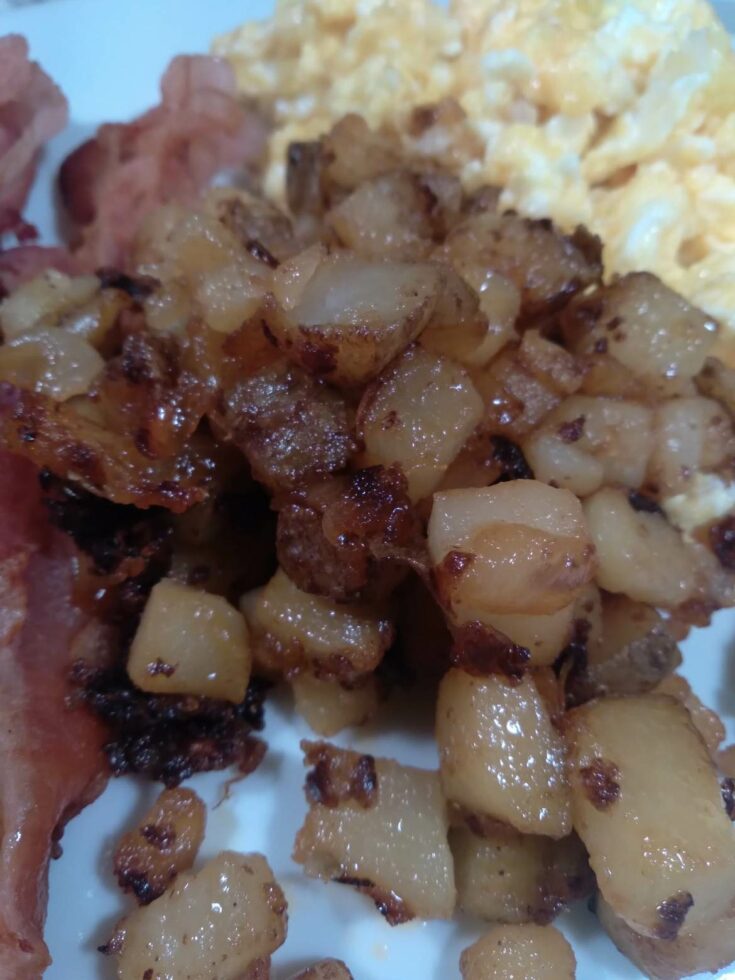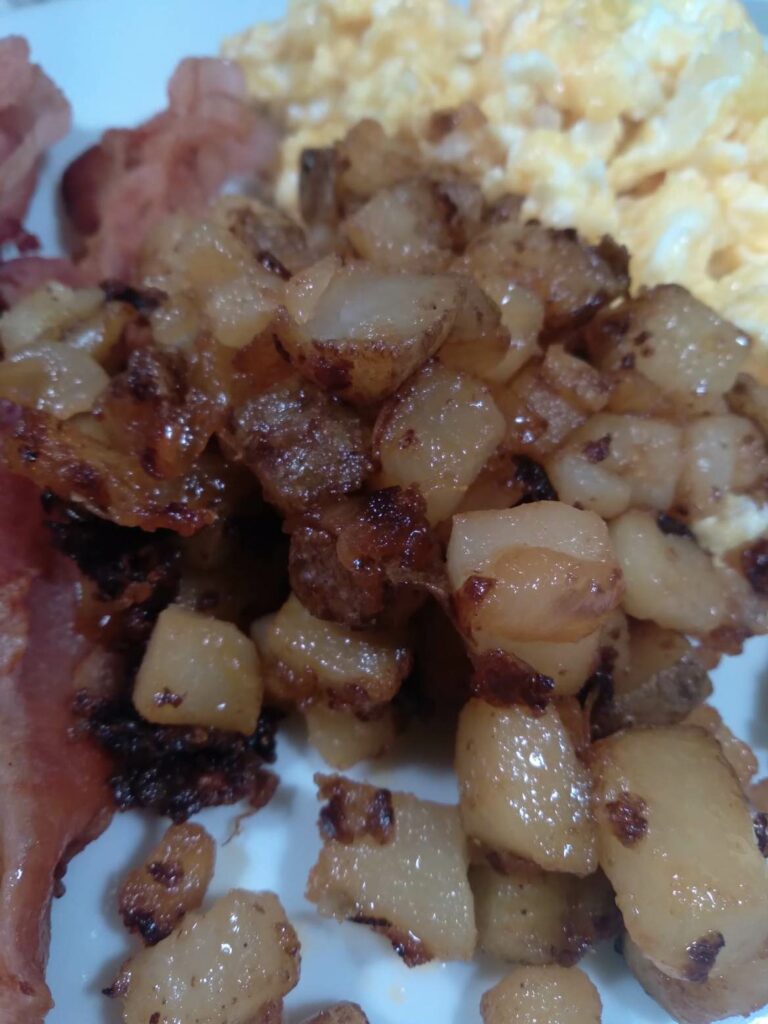 These easy to make 3 ingredient breakfast potatoes are the perfect side dish for a hearty breakfast of bacon and eggs.
Ingredients
1 Large Potato
1 Medium Onion
2 Garlic Cloves
1 Tsp Paprika
1/2 Tsp Salt
2 Tbsp Rendered Bacon Fat (or butter/oil)
Instructions
Cut 1 large potato into small, uniform pieces, about 1/4" x 1/4" or smaller.
Chop 1 onion (medium size pieces are fine).
Dice 2 garlic cloves.
Heat 2 Tbsp. rendered bacon fat in a cast iron or stainless steel pan on medium heat.
Put potato, onion, and garlic into the pan.
Add paprika and salt.
Turn potatoes every 1-2 minutes for 20 minutes, scraping the crispy bits from the bottom of the pan with each turn.
Notes
If your potatoes are sticking to the bottom of the pan in more than just a thin, scrapable layer, you can add another tablespoon of fat, butter, or oil to the pan.
If you get to the 20-minute mark and your potatoes are not partially carmelized and somewhat crispy, cook them for a few more minutes.
Nutrition Information:
Yield:
4
Serving Size:
1/2 cup
Amount Per Serving:
Calories:

142
Total Fat:

7g
Saturated Fat:

3g
Trans Fat:

0g
Unsaturated Fat:

4g
Cholesterol:

6mg
Sodium:

309mg
Carbohydrates:

19g
Fiber:

2g
Sugar:

2g
Protein:

2g
Have you tried this recipe? If so, leave a comment and let us know what you think!
Oh, and don't forget to subscribe to our newsletter. By doing so, you'll get new recipes delivered right to your email!