If you are looking for an out-of-this-world cold-weather recipe that will satisfy and impress your family tonight? If so, you've got to try out this creamy potato soup recipe of mine – it's the best.
This is another recipe that uses rendered bacon fat, like my breakfast potato recipe.
This is the key to making your potato soup so rich and flavorful.
Unlike that recipe, however, you don't need to have bacon fat in your refrigerator already or be cooking bacon as a side item.
(Nobody serves bacon alongside soup – that would be awkward.)
For this recipe, you will be cooking up some bacon, using the fat to help flavor the soup, and then topping your yummy creamy potato soup with some delicious and crispy bacon bits.
I'm telling you, this is a recipe you are going to really be proud to serve.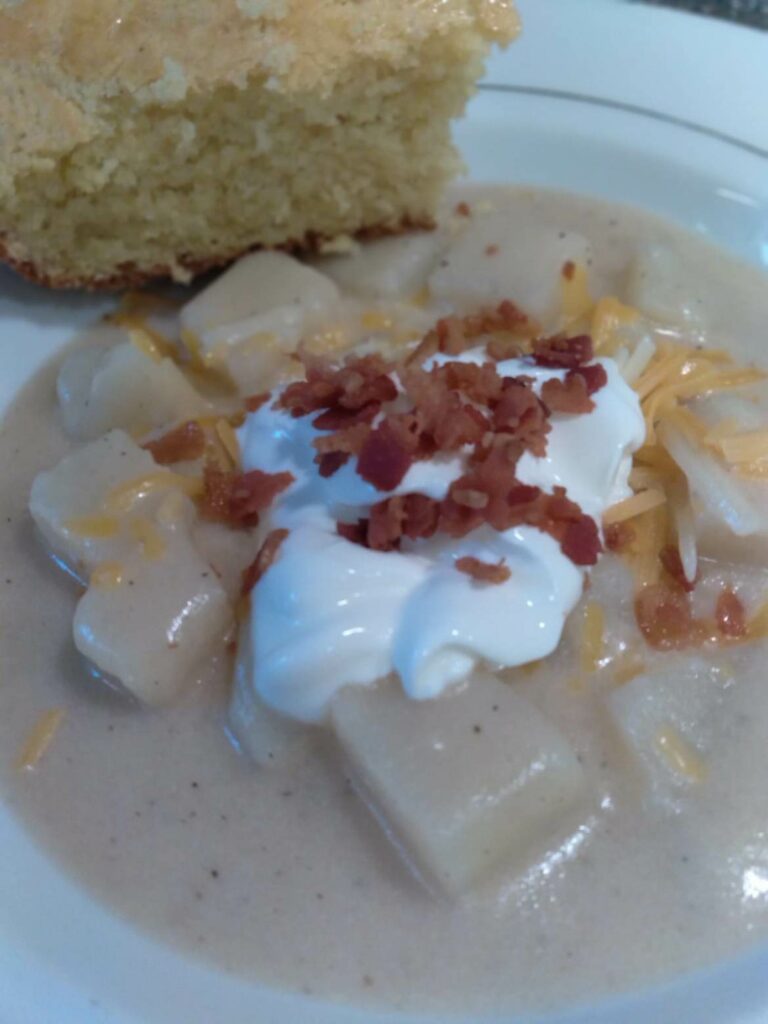 The ingredients in this recipe are things you likely already have in your kitchen and/or pantry right now.
If you're missing an ingredient or 2, don't sweat it. Substitutions are easy when you're cooking soup.
Another beautiful thing about soup is that you can add whatever ingredients you think it needs after you get the basics added into the pot.
At a restaurant, potato soup is often served as an appetizer or side dish.
This recipe, though, is so hearty and filling that it's really all you need for a good meal.
And some cornbread – every post of soup gets a batch of sweet cast iron skillet cornbread in my house.
What you'll need for this recipe
Before you start cooking the potato soup, you need to make sure you've got everything you need.
Large pot or dutch oven
blender
A dutch oven is preferable for what we're doing here, however, a large 4-quart pot with a lid will work, as well.
You will be using a blender during the cooking process to blend some of the potatoes.
This is what will make the soup nice and creamy.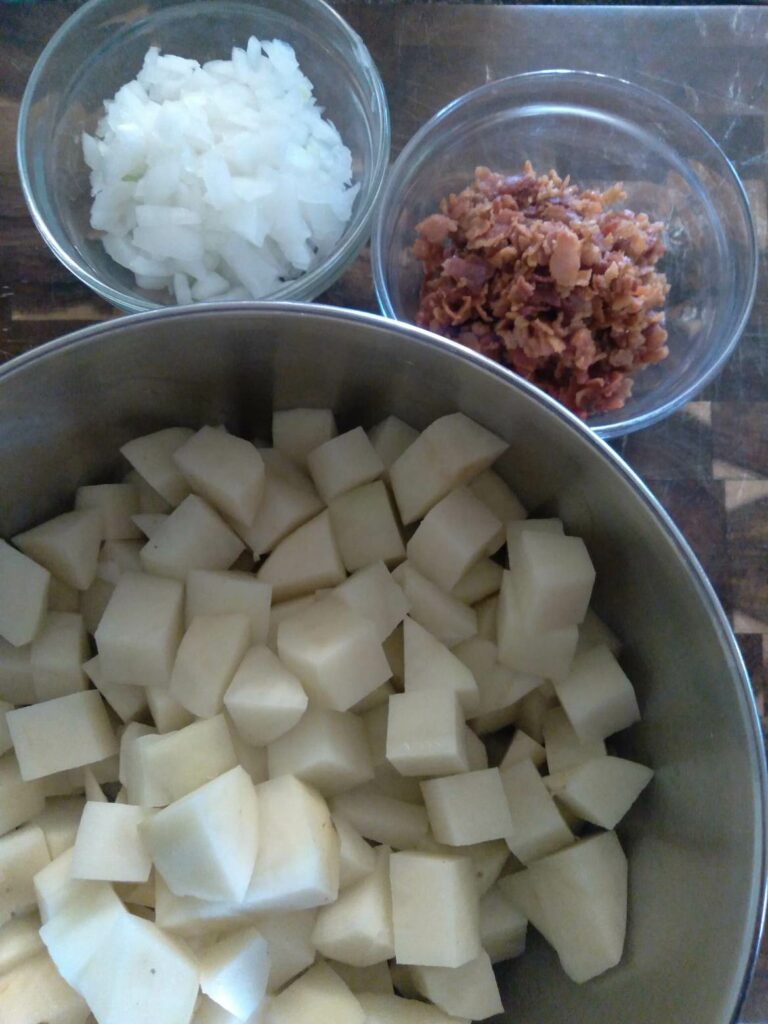 Creamy potato soup ingredients
bacon
butter
potatoes
onion
flour
red pepper flakes
black pepper
garlic powder
salt
beef broth
milk
heavy cream
shredded cheddar cheese (topping, optional)
sour cream (topping, optional)
green onions (topping, optional)
I like to chop up my bacon first and then, while it's cooking, go ahead and chop the onion, potatoes, and green onions.
The size of your potato pieces depends on your personal tastes. I like to cut them into 1″ pieces or smaller.
If at some point during the cooking process, you feel like your potato pieces are too big, there's no need to worry.
You can simply cook the soup for a little bit longer.
Yield: 8 servings
Easy Creamy Potato Soup Recipe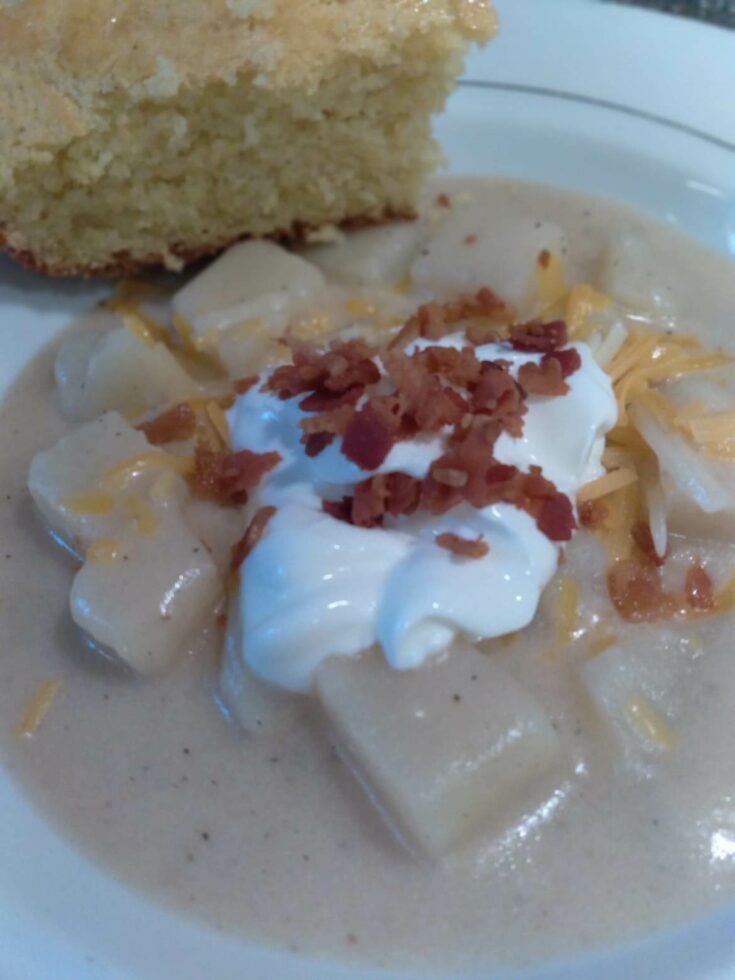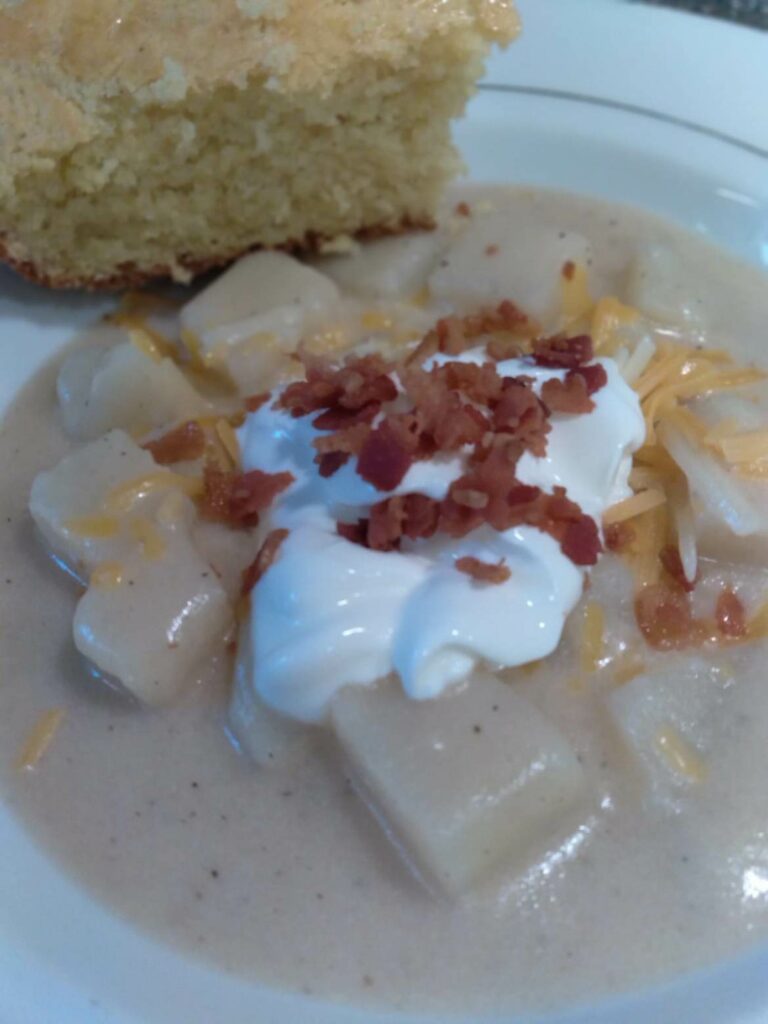 This creamy potato soup recipe is so easy to make and is sure to impress your family and guests.
It's got a rich flavor and the perfect amount of spice.
Top it with some sour cream, shredded cheese, and green onions, and you've got all the flavors of a loaded baked potato right in the bowl.
Ingredients
5-6 large russet potatoes
8 strips bacon
1 medium onion
2 Tablespoons salted butter
1/2 cup flour
4 cups beef broth
2 cups milk
1 cup heavy cream
1 teaspoon garlic powder
1 teaspoon salt
1/2 teaspoon black pepper
1/4 teaspoon red pepper flakes
shredded cheese (topping, optional)
sour cream (topping, optional)
green onions (topping, optional)
Instructions
Cut bacon strips into bits and cook in a large pot on medium heat until brown and crispy, stirring as needed.
Reduce the heat to a low setting.
Using a slotted spoon, scoop out the bacon bits into a small bowl and set it to the side, leaving all of the fat at the bottom of the pot.
Chop the onion and add it to the pot along with the butter.
Bring the heat back up to a medium setting and cook the onions for about 5 minutes.
Add flour evenly over the butter, fat, and onion mixture and stir.
Add the rest of the ingredients, except the toppings, and bring everything to a boil as you stir.
Let everything boil for 8-10 minutes, then reduce heat to a simmer.
Scoop about 1/2 - 2/3 of the potatoes into a blender and puree them.
Pour the puree mixture back into the pot and stir.
Simmer for another 10-15 minutes before serving.
Top with the bacon bits you cooked earlier in the recipe and cheese, sour cream, and diced green onions if you like.
Notes
I recommend adding the red pepper flakes while the soup is cooking, however, you can add the salt and black pepper to taste at the end of the cooking process, if you are sensitive to salt or spice.
If you want your potato soup completely creamy, with no potato chunks, simply puree all of the potatoes. You'll want to do this in batches.
Nutrition Information:
Yield:
8
Serving Size:
1
Amount Per Serving:
Calories:

490
Total Fat:

21g
Saturated Fat:

12g
Trans Fat:

1g
Unsaturated Fat:

8g
Cholesterol:

62mg
Sodium:

1020mg
Carbohydrates:

60g
Fiber:

6g
Sugar:

7g
Protein:

16g