If you are ready for an easy and delicious dessert that's made with potatoes and cherries, you need to try these fried cherry dumplings.
They are made with potato dough, just like the dough used for Hungarian potato langos, and they are absolutely delightful.
This recipe came about when I set out to the grocery store to make some plum dumplings.
You see, there were none available – not the right season.
Though it was also typically not the right season for cherries, either, cherries were sitting there staring right at me when I went to leave the store.
They looked so fresh and brightly colored. I knew right then and there what the new dessert plan would be.
Fried cherry dumplings with potato dough!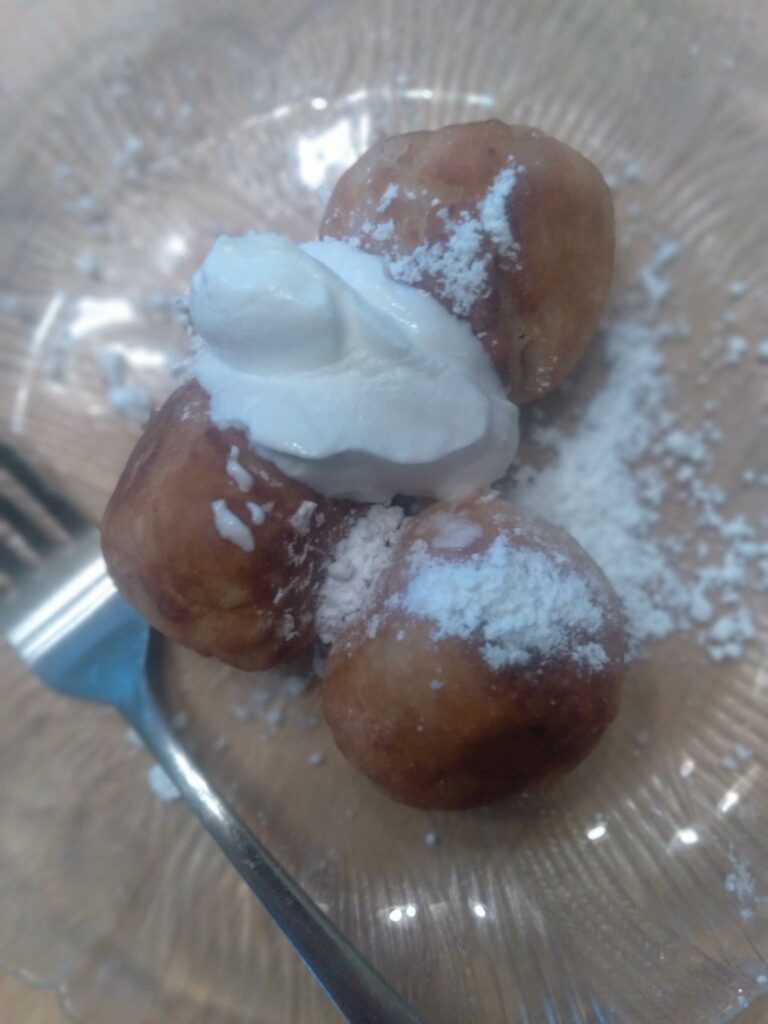 What you will need to make fried cherry dumplings with potato dough
This is a very easy recipe and you probably have everything you need already on hand.
cast iron pan (preferred, but stainless steel and non-stick will work)
Metal tongs
Large cutting board
2 mixing bowls
sharp knife
Ingredients for the dumplings
Again, you probably already have most of what you need to make these tasty dumplings.
After all, dumplings were originally created as a way to stretch meat.
So, of course, you'd have it on hand.
Expect the cherries – hopefully, as you read this recipe, delicious cherries are in season and available to you.
Potato
Flour
Sugar
Instant yeast
Cooking Oil
Salt
Cherries
How to make the dough
If you've made langos before, you've made the dough for these yummy dumplings.
It's almost exactly the same. I just modified a couple of the ingredients.
If you've never made langos, here's a quick explanation.
Boil and mash the potato
You will need to boil the potato and then peel it.
If you don't want your kitchen to get all hot and steamy, you can cook your potato in a wet plastic bag in the microwave for 7 minutes or so.
You can also steam the potato in your pressure cooker. This will take about 15 minutes.
After the potato is nice and soft, peel and mash it.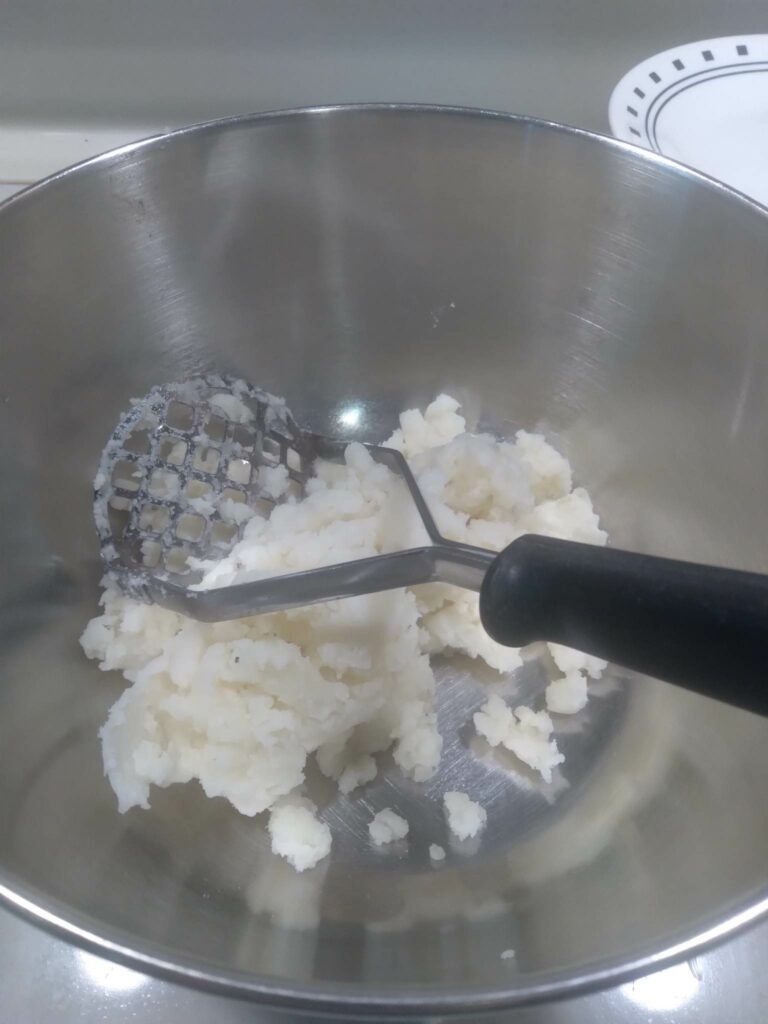 Proof the yeast
You'll want to wake your yeast up a few minutes ahead of time for this recipe.
You do this by warming the milk slightly and stirring in the yeast.
You'll let it sit while you mix your dry ingredients together.
Mix the dry ingredients
While your yeast is activating, mix your flour, salt, and sugar together.
Mix the wet and dry ingredients
Combine the milk and yeast mixture with your bowl of dry ingredients, then add in the mashed potatoes.
Mix until dough forms, adding more flour if needed.
Knead for 5 minutes and place the dough ball into an oiled bowl.
Let the dough rise
Cover the bowl with the dough and place it somewhere warm for 1 hour.
The dough should double in size during this time.
What I usually do is heat up my oven to its lowest temperature, which is 170F, then shut it off and put my bowl in there.
How to make the fried cherry dumplings
Stem and pit the cherries
Remove the stems and pits from the cherries.
To remove the pits, you make a slit down one side of a cherry and pull the pit out with one finger.
If you accidentally cut a cherry in half, don't worry. You can put 2 halves in a dumpling – nobody will ever know.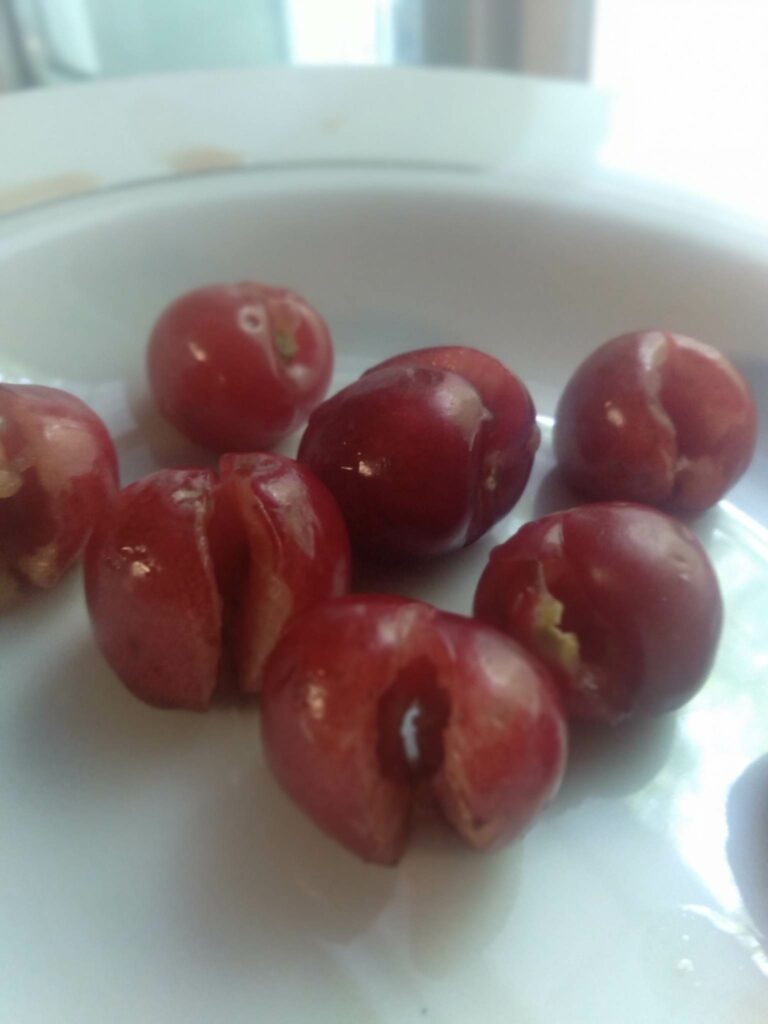 Roll and cut dough squares
Roll out your dough till it's nice and flat. A 1/8″ thickness is good, but the flatter you get it, the more fried cherry dumplings you'll make.
Cut squares of about 2×2″.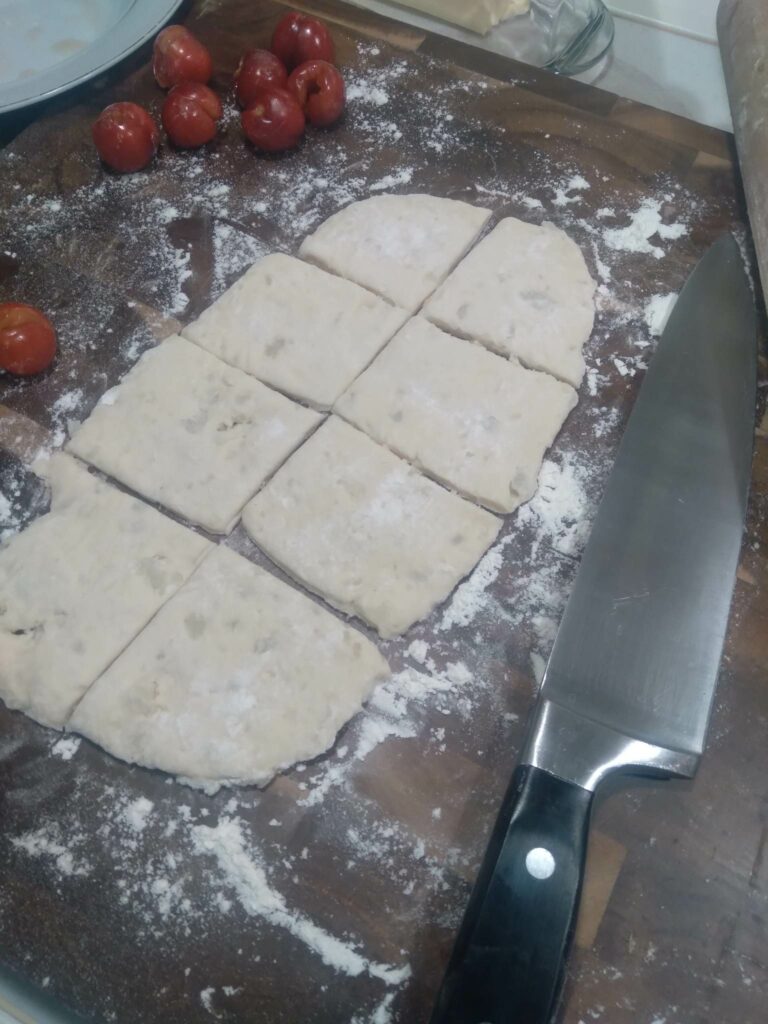 Wrap the cherries
One by one, place the stemmed and pitted cherries into the dough squares.
Pull the sides of the dough around each cherry, pinching it closed.
After the cherries are nice and sealed, roll them in your palms to make smooth balls.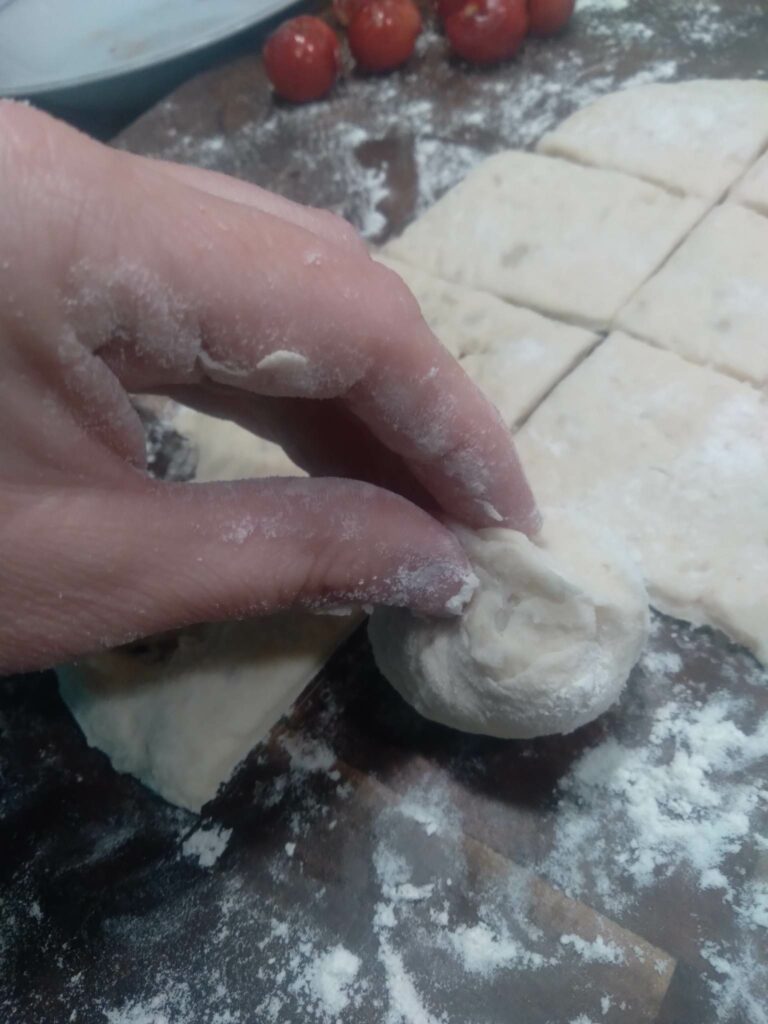 Fry the dumplings
In small batches of 5 or 6, fry the cherry dumplings in about 1/2″ of hot oil.
You will be turning them a few times during the frying process, making sure that the round dumplings are golden brown on all parts.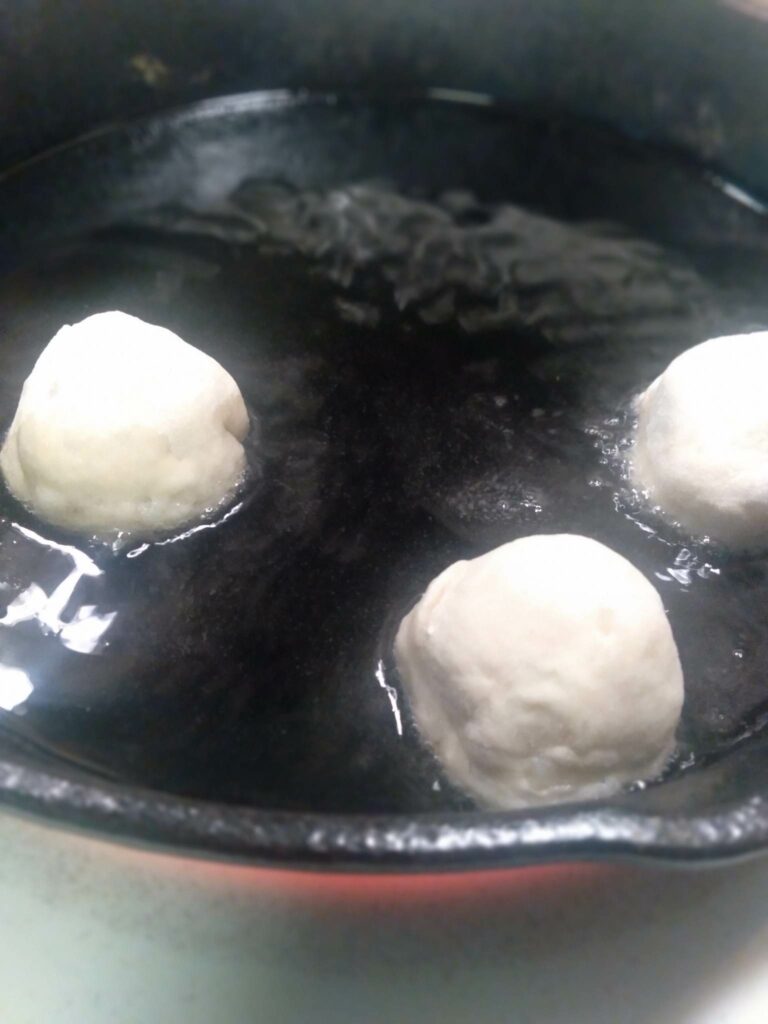 How to serve these fried cherry dumplings
These fried cherry dumplings don't contain much-added sugar. So, they are not overly sweet.
This makes them versatile. You can eat them as a small meal or snack or serve them as a dessert.
If you're serving them as a meal or snack, you can top them with cheese or sour cream.
If you are making these for dessert, you can put a dusting of powdered sugar over them and, if desired (my kids require this), a bit of whipped cream.
Yield: 25 Dumplings
Fried Cherry Dumpling Recipe with Potato Dough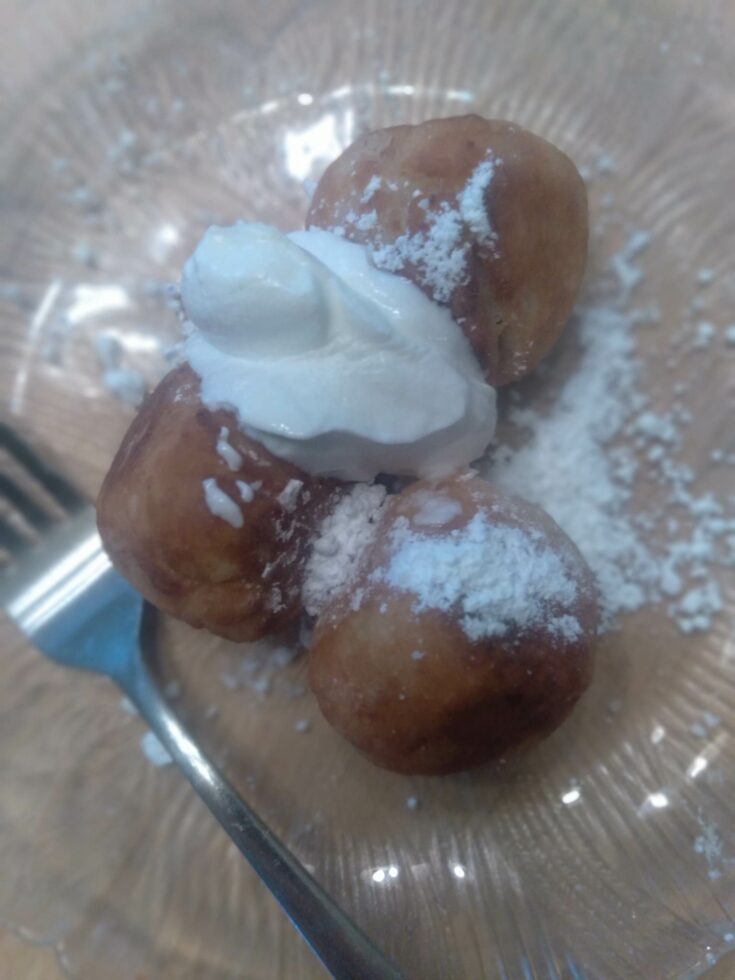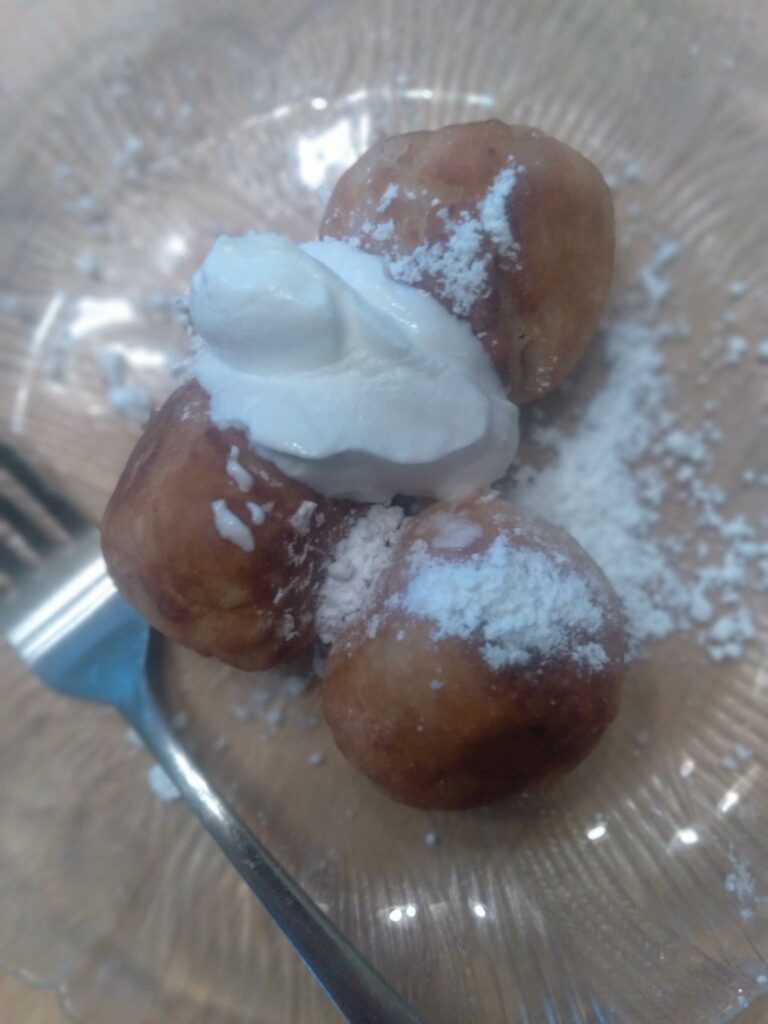 If you want a sweet dessert that you can make with potatoes, cherries, and a few other things you probably have in your pantry, this fried cherry dumpling recipe is worth your time.
This sweet treat can be topped with powdered sugar and whipped cream and served as a dessert or topped with sour cream and eaten as dinner.
This is a Hungarian-inspired recipe that you'll love cooking for your family and friends.
Total Time
1 hour
40 minutes
Ingredients
1 Russet Potato
1 Cup All Purpose Flour
1/2 Cup Milk
1 Packet Instant Yeast
1 TBSP Sugar
1/4 TSP Salt
25 Cherries
1-2 Cups Cooking Oil of your Choice
1/2 Cup Powdered Sugar (optional)
Sour Cream (optional)
Whipped Cream (optional)
Instructions
1. Boil, peel, and thoroughly mash the potato.
2. Warm the milk for 20 seconds in the microwave and mix in the yeast. Set to the side.
3. In a mixing bowl, combine the flour, sugar, and salt.
4. Add in the mashed potato and milk/yeast mixture.
5. Stir until dough begins to form, then knead for 5 minutes. (Dough should not be sticky, add more flour if it is.)
6. Oil the sides of a separate bowl and place your dough ball into it, cover it with a cloth, and place it in a warm area.
7. Let the dough rise for 1 hour, or until it doubles in size.
8. While the dough is rising, remove the stems and pits from 25 cherries. (You can remove the pits by cutting a small slit into each cherry and pulling the pit out.)
9. When the dough is finished rising, flour a large cutting board and roll the dough into a large, thin rectangle, about 1/8" thick or less. (You may need to do this in batches if you have a smaller cutting board.)
10. Take a sharp knife and cut 2x2" squares.
11. One by one, wrap each cherry in the dough squares, pinching them closed and then rolling them smooth in between your palms, setting each on a plate as you finish.
12. Heat up about 1" of cooking oil to medium-high heat.
13. Carefully place the first batch of 5 or 6 uncooked dumplings in the hot oil.
14. Cook for 1-2 minutes and then use metal tongs to rotate each dumpling until each one is cooked on all sides.
15. Place the cooked dumplings on a paper towel-lined plate and cook the rest of the dumplings.
16. Top with sour cream if this is a dinner or powdered sugar and whipped cream (optional) if served as a dessert.
Notes
The recipe for the dough may need to be modified simply because potatoes don't come in one standard size.
Feel free to add more flour or milk as needed.
The amount of dough for this recipe will easily cover at least 25 cherries.
As you work through covering your cherries with the potato dough, you might find that you can make quite a few more dumplings.
It just depends on how thin you rolled the dough.
Nutrition Information:
Yield:
8
Serving Size:
1
Amount Per Serving:
Calories:

637
Total Fat:

57g
Saturated Fat:

4g
Trans Fat:

0g
Unsaturated Fat:

50g
Cholesterol:

3mg
Sodium:

84mg
Carbohydrates:

30g
Fiber:

2g
Sugar:

13g
Protein:

3g